GRUBBER WITH HEAVY ANCHORS - Brought on lift version
Machine released after a lot of tests on different fields and in greenhouse, for solving the problem of the depth tillage and comminution surface. On open field and in greenhouse this kind of anchor allows to till at a working depth from 15 to 45 cm.
Two lines of rear wavy and star discs broke and mix the soil and maintain the perfect plain of it. All the discs are mounted on supports with swiveling supports with triple protection and greaser. The machine can be equipped with cage roller, paker roller, ring roller and spike roller (instead of the double lines of discs).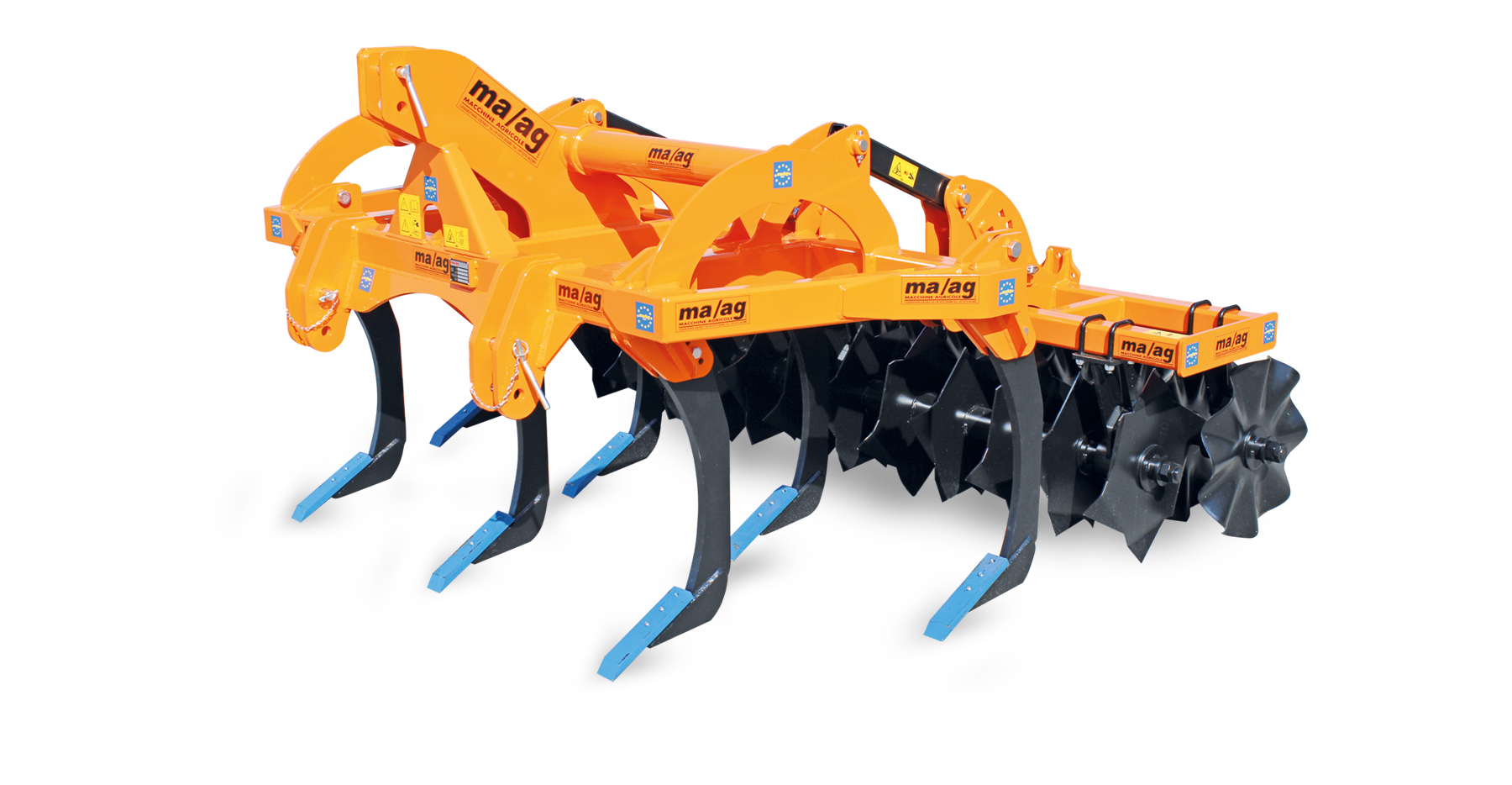 ESQ – work. width 2,50 m
| | |
| --- | --- |
| | ESQ 25/7 TF |
| WORK. WIDTH | 2,50 |
| TRANSP. WIDTH | 2,50 |
| ANCHORS N. | 7 |
| KG | 1150 |
| HP | 70 |
| FRAME | FIXED |
ESQ – work. width 3,00 m
| | |
| --- | --- |
| | ESQ 30/9 TF |
| WORK. WIDTH | 3,00 |
| TRANSP. WIDTH | 3,00 |
| ANCHORS N. | 9 |
| KG | 1250 |
| HP | 90 |
| FRAME | FIXED |
ESQ – work. width 3,60 m
| | | |
| --- | --- | --- |
| | ESQ 36/11 TF | ESQ 36/13 TF |
| WORK. WIDTH | 3,60 | 3,60 |
| TRANSP. WIDTH | 3,60 | 2,50 |
| ANCHORS N. | 11 | 11 |
| KG | 1580 | 1750 |
| HP | 110 | 150 |
| FRAME | FIXED | FOLDING |
ESQ – work. width 4,00 m
| | |
| --- | --- |
| | ESQ 40/13 TF |
| WORK. WIDTH | 4,00 |
| TRANSP. WIDTH | 2,50 |
| ANCHORS N. | 13 |
| KG | 1900 |
| HP | 180 |
| FRAME | FOLDING |
Accessories
| | |
| --- | --- |
| CODE | DESCRIPTION |
| ACSRESQ25 | Kit double roller star/wavy alternated |
| ACSRESQ30 | Kit double roller star/wavy alternated |
| ACSRESQ36 | Kit double roller star/wavy alternated |
| ACSRESQ36R | Kit double roller star/wavy alternated (foldable frame) |
| ACSRESQ40R | Kit double roller star/wavy alternated (foldable frame) |
| ACSRESQ25 | Kit cage roller |
| ACSRESQ30 | Kit cage roller |
| ACSRESQ36 | Kit cage roller |
| ACSRESQ36R | Kit cage roller (foldable frame) |
| ACSRESQ40R | Kit cage roller (foldable frame) |